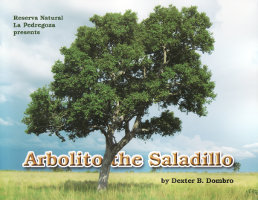 Just in time for Christmas, we have a special gift solution for you. We have published a 24 page children's book called Arbolito the Saladillo. The foreword is by the famous wildlife artist Robert Bateman, and the author is Dexter Dombro, one of the founders of the Reserva Natural La Pedregoza. We are selling the book in units of 10, with each book sold helping to plant native trees in our rain forest for expandeded wildlife habitat. This book is a fundraiser for the amazing biodiversity to be found at La Pedregoza.
Arbolito the Saladillo tells the story of Arbolito, a small Saladillo tree growing up on the edge of the inundation forest. The inundation forest is a type of rain forest that floods for up to 6 months of the year, when the rivers rise during the rainy season. Arbolito lives in the Reserva Natural La Pedregoza, a place set up to protect trees and animals. Young readers will get to meet a diverse cast of characters who survive in and depend on the inundation forest.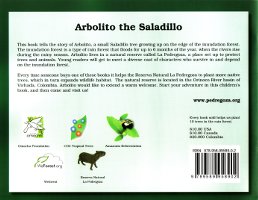 The books can be ordered on-line using the convenient PayPal button found on this page, enabling you to buy the books using Visa, MasterCard or your Paypal account. You can also order your set of 10 books by downloading and filling in this Order Form and faxing it to +1-780-463-5125 or to +506-2220-1721, or by scanning the Order Form and e-mailing it to us by sending it to dexter at pedregoza dot org or just Click Here. We will then contact you to make payment and delivery arrangements. Click on this link to see our Privacy Policy Statement.
Pricing: Every unit of "Arbolito the Saladillo" consists of 10 books for just $100.00 USD plus $7.50 USD shipping and handling. This is an ideal solution for your Christmas shopping requirements, because every order lets us plant up to 100 tropical native trees in the rain forest. Thank you!