Welcome to La Pedregoza Natural Reserve!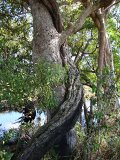 This natural reserve is located 67 KM from the port city of Puerto Carreño in the Colombian departamento of Vichada in Colombia. It's situated along the banks of the
Rio el Bita
not far from the mighty Orinoco river
announcement
. La Pedregoza Natural Reserve is a conservation area for native tropical tree species and endangered wildlife in the Orinoco basin. Located strategically along a major river, it provides refuge for animals moving between
El Tuparro National Park
and the natural reserves of
Nimajay
and
Bojonawi
. Reserva Natural La Pedregoza is composed at present of three significant riparian forests and three unique morichals, or densely forested drainage creeks, covering 10 square kilometers.